This is the statistics for the tag appscript on Stackoverflow. This statistics are retrieve from Stackoverflow using Stackexchange API. About 2020, the data is retrieved from 2020-01-01 to 2020-07-01.
Recently, this tag is modified by editing the tags. So I think that it has to be said that this statistics data is obtained at 2020-07-06.
Measurement result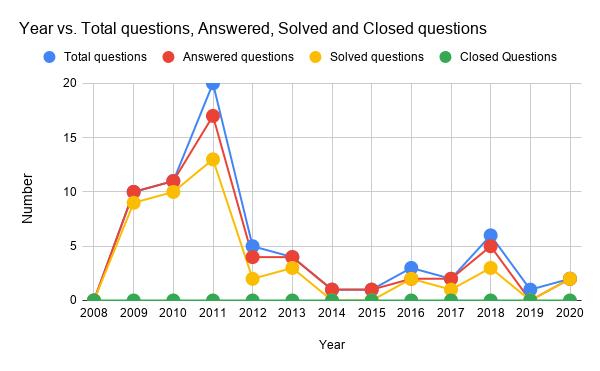 Fig. 1: Year vs. Total questions, Answered, Solved and Closed questions
Table 1: Tags which were used together with appscript tag for each year.
| Year | Used Tag list |
| --- | --- |
| 2008 | |
| 2009 | appscript(10),python(7),macos(5),applescript(3),iwork(2),ruby(2),finder(1),excel(1),debugging(1) |
| 2010 | appscript(11),python(6),macos(4),applescript(3),cocoa(3),google-chrome(2),py-appscript(2),itunes(2),rb-appscript(2),objective-c(2),safari(1),chromium(1),pathfinder(1),keycode(1),clipboard(1),setuptools(1),image-processing(1),nsimage(1),iwork(1) |
| 2011 | appscript(20),py-appscript(9),python(9),applescript(8),rb-appscript(5),macos(3),ruby(2),appleevents(2),automation(2),objective-c(2),rdio(1),api(1),arguments(1),vlc(1),bash(1),finder(1),osx-lion(1),java(1),osx-leopard(1),apache2(1),django(1),filter(1),datetime(1),safari(1),attributeerror(1) |
| 2012 | appscript(5),rb-appscript(3),applescript(2),ruby(1),installation(1),macos(1),python(1),scripting-bridge(1),macruby(1) |
| 2013 | appscript(4),ruby(3),require(1),plist(1),keyboard-maestro(1),applescript(1),macos(1),ruby-2.0(1) |
| 2014 | appscript(1),py2app(1),python(1) |
| 2015 | appscript(1),applescript(1),python-2.7(1),python(1) |
| 2016 | appscript(3),python(2),safari(1),web(1),macos(1),ruby-on-rails(1),appleevents(1) |
| 2017 | appscript(2),hammerspoon(1),lua(1),ionic3(1),typeerror(1),ionic2(1),ionic-framework(1) |
| 2018 | appscript(6),ionic3(2),xlwings(1),python(1),ionic-framework(1),google-app-maker(1),node-modules(1),npm(1),request(1),html(1),javascript(1) |
| 2019 | appscript(1),applescript(1),google-chrome(1),javascript(1) |
| 2020 | appscript(2),xlwings(1),autofill(1),python(1),angularjs-ng-repeat(1),angularjs-scope(1),angularjs(1) |
Summary
From Fig. 1, it shows that the tag appscript is used a lot at 2011. At that time, this tag is used for 20 questions. After 2011, this frequency of appscript is low. The average frequency of use is 2.7.
From Table 1, it seems that appscript is used with applescript and python. In the current stage, it seems that appscript tag is not used together with google-apps-script tag.
Share!